The Dustless Advantage
---

Dustless Wood Floor Sanding Video
Air filtration and dust collection are some of the most important aspects of floor refinishing today. Wood dust is an allergen for many people and pets. Containment is essential for a healthy workplace and living environment.
A dust collection system is an air quality improvement system used to remove particulate matter from the air during the floor sanding and surface preparation process.
Dust must be first "captured"

- Devices such as capture hoods are used to catch dust as it originates.

Dust must then be "conveyed"

- Generally a ducting system is used operating at a low velocity to suspend the dust as it moves toward collection.

Dust must be "collected"

- This can be as simple as a basic filtering system or a cyclonic separator, or as complex as an electrical precipitator.
The Problem
Traditional floor sanding equipment uses a dust bag to collect and filter the dust during the sanding process. Because the bag is the only source of filtration, the air flow through the bag and back into the job space will always contain the smallest particles of dust. As the bag fills with material, it becomes a smaller filter. Increased back-pressure from a partially filled bag causes an increase in the amount of fine dust that is blown through the bag. This can affect the ability of the technician to collect dust from the floor. It also can be responsible for more dust being left behind or becoming airborne as the bag continues to fill.
The Solution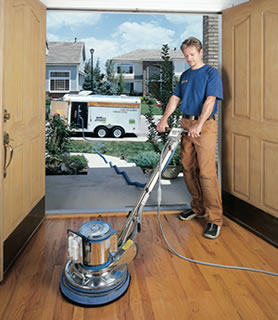 Bona Atomic DCS Dust Collection System
Without a bag, the sander can function well. The back pressure is eliminated and the dust "pickup" is very efficient. However the dust must still be "captured"," conveyed", and "collected". Bill's Floor Sanding has invested in the very latest state-of-the-art technology developed to solve the dust problem. The top-of-the-line Bona Atomic DCS (trailer)—offered only by top floor professionals in the industry—is now part of the solution resulting in a virtually dust free environment. Coupled with Four Generations of knowledge and experience, Bill's Floor Sanding is the company of choice in the greater Hartford area.
Bona Atomic Dust Collection System
The Bona Atomic DCS is the most advanced dust containment system available today. It combines a Bona exclusive two-step cyclonic intake system with a hospital-grade HEPA filter. The cyclone spins the air stream through filtering steps. Dust and matter is processed outside the home, eliminating airborne dust that might settle into the finish. A two inch hose connects the sander, edger, and buffer to the DCS vacuum system—which is also outside the home. The DCS is powered by a 24-hp gas engine, dramatically increasing the speed and efficiency of the work process. The DCS is Green Guard certified for indoor air quality.