---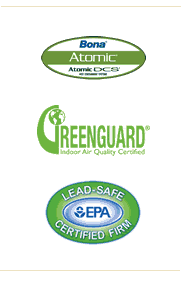 "Once again, you and your crew have done an outstanding job on my wood floors!"
~ M. Coursey
Coursey Financial Group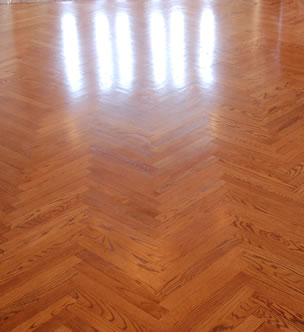 The Baroque Era of 1625-1714 brought wood floors into vogue for the most affluent of the European population. The first floors were likely French Parquetry, made from hand-cut and laid pieces of wood. The area was then scraped, rubbed with course sand, stained and polished. The process was laborious and time consuming, as well as expensive. With colonization, and discovery of a great abundance of wood in North America, plank floors became common during the Colonial Era of 1607-1780. Plank floors were not finished and only made smooth by the feet of colonials.
By the early 1800's more parquet patterns were appearing in affluent homes, while the plank floor remained most common, Plank floors were either painted, or in better homes laid in a tongue and grove fashion. Surfaces were prepared by hand, using "draw knives" which were finished flat blades attached to two handles. The knives were pulled toward the worker, scraping off thin layers of wood until a smooth surface appeared. Scraping marks were left behind; evidence of them seen in reclaimed wood from old buildings. A final hand sanding; shellac brushed into the wood; a finish waxing and polishing gave the floors a new luster.
Factory mass production of wooden floors didn't begin till the late 1800's - 1910. In 1903, wooden "carpeting" ( wood strips glued to a heavy canvas) was sold by the roll. It was installed, and hand sanding and finishing was still required. By 1914 wooden tongue and groove floor boards became popular. In addition, the parquet and herringbone patterns were used. In 1916, Clarke American Sanders built the first recorded mechanical sanding machine for sanding bar tops, and by 1925 a handle was added for the ease of use in floor restoration.
In 1926, A young American inventor, Art Emmons, created his first masterpiece. The portable electric belt sander. It became popular by saving craftsmen many long hours of hard labor. As a result, Porter-Cable, the manufacturer of Emmons' invention developed its niche in portable electric power tools. Later development of the palm sander, vibrating sander, and finish sanders gave the industry new flexibility. Early machine sanding also produced a new challenge - how to deal with sawdust. Early dust collection bags were made of socks for small machines, or heavy canvas bags with draw strings for a larger machine.
In Europe, Eugen Hagler developed a floor sanding machine in the early 1950's which he called EFF. It was a cylinder machine which was to revolutionize The Art Of Floor Sanding, and in 1969, Hagler set new standards with his vision of the best sander and edger.
By the late 1920's and 30's. wooden floors were challenged by linoleum and cork, which offered less maintenance and lower cost. However, modernization of improved varnishes with addition of alkyd resin, and in the late 1930's polyurethane, became the ideal no-wax finish. Wood played a prominent role into the late 1940's as it remained the less expensive alternative to carpet. At the close of WWII, the housing boom also brought with it, broadloom. Soon the use of plywood as the sub floor was the norm. For about 30 years from 1950-1980, the wood industry struggled for survival. Development continued out of the need for competitive pricing and quality choices as the alternative to carpet.
By the 1980's pre-finished floors began to appear, and grew in popularity. They could be used in areas of the home where hardwood was not suitable, and eliminated the need for in home sanding, coating, and finishing. Pre-finished floors have became a major part of today's market.
One of the major advances in the industry appeared during the mid 1990's. The growing attention to environmental air quality was responsible for the major advances in alternative dust containment and collection. In 1931, Porter-Cable had introduced the concept of dust collection. However, the idea did not gain main stream attraction for the residential customer until 1990. HEPA filters, vacuums, and masks compliment self contained dust collection systems as a necessary part of the industry's air quality air quality management goals today.