Helpful Hints for Keeping Your Wood Floors Beautiful
---
---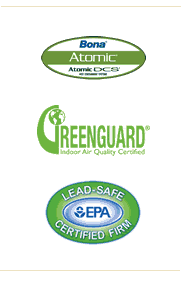 "We had been using several different floor sanding contractors, but none matched Bill's service and performance."
~ Bill Nardi
Property Manager, Imagineers, Inc.
Helpful Hints
Never use ammonia, self-polishing acrylic waxes, bleach, or oil soaps to clean hardwood Floors. They will dull or change the finish and affect the ability to re-coat or refurbish later on.
Use of floor mats to capture dirt & grit particles which will scratch the floor over time. Use in water splash areas and only use specialty mats for hardwood floors. Do not use rubber-backed or non-ventilated mats which can damage the floors over time.
Do not wet-mop or use excessive water to clean floors. This can cause the wood to expand and crack or splinter.
Spray a little professional cleaner on a cloth and apply to remove occasional scuff & heal marks.
Do not wax a floor that has a polyurethane finish.
Clean up spills and sticky spots immediately.
Consider screening & re-coating to rejuvenate dull, worn or lifeless coating on floors. Older or damaged floors will require a full sanding and refinishing for a completely new appearance.
Fading or changing color due to sun exposure (UV Rays) may occur over time. Use of window treatments to provide shade and rotating furniture & area rugs regularly will promote more even aging.
Use flannel protectors on furniture and table legs to avoid scratches. Never slide furniture. Always pick up to move.
Check heels on shoes periodically. Make sure no cleated or sports shoes are worn. Unintended dents and scratches may occur. Also check your pets nails!
To control humidity, use a humidifier in the winter—if your house is dry—and air conditioning in summer. Ideal humidity levels are 35% - 45%.