---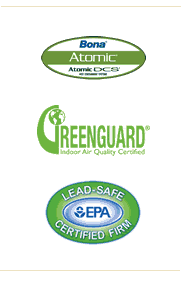 "I can recommend Bill's Floor Sanding without reservation."
~ Donald J. Hannan
Rector, Grace Episcopal Church
Identify Your Surface Finish
Refinished hardwood floors will reward you with many years of luster and beauty if a few simple steps are taken to care for the hardwood.
Familiarize yourself with the type of surface that is on the floor:
Surface Finishes
Polyurethane
Water-based
Catalyzed Finish
Refinished (factory)
Penetrating Finishes
Oil
Acrylic
Amendoim
Wax
Shellacs/Varnish
Daily Care
Sweep, vacuum or dust mop daily with a soft-tipped broom, or flooring vacuum head. Shake out floor mats and area rugs to remove dirt particles.
Cleaning
Use the appropriate professional cleaning product for the type of finish on your hardwood. There are many choices today, but contact your flooring manufacturer if you are not certain which product is best suited for your floors. Polycare® by Absolute Coatings is frequently used for polyurethane finishes. Pre-finished wood floor manufacturers have their own specific cleaning products.
Test a small area first then apply with a soft applicator—such as a terry cloth rag or micro fiber mop. Alternatively, a 50/50 mixture of half white vinegar and warm water makes an excellent, eco-friendly cleaner.
For a deeper cleaning, use of a floating head terry cloth mop—can also be used for corners, under cabinets, baseboard areas. A crevice tool attachment on a vacuum cleaner is useful for crevices and bevels. Make sure the attachment has no rough surfaces that might scratch or mar the finished surface.