Wood Flooring & Design
---
---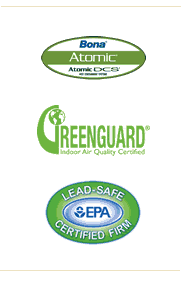 "The crew was careful, efficient and thorough."
~ E.S. Grant
Types of Wood Flooring
---
Solid Hardwood
Single piece of hardwood with tongue and grove sides
Can be unfinished or prefinished
Refinished multiple times as well as recoated
Sensitive to moisture & temperature changes; May gap or cup as wood adapts to a condition
Installation is limited depending upon moisture conditions
Engineered Hardwood
Three or more thin sheets of wood laminated together using a cross-ply direction which adds stability
Top layer (finish layer) can be a completely different wood species than the lower layers
May or may not be recoated depending upon thickness of the top finished layer
Typically pre-finished in the factory
Not affected by changes in moisture or temperature
Installation virtually anywhere; Staple, nail, glue, or click installation over subfloor or moisture barrier; Used as a floating floor over concrete pads or radiant floor heating systems
Longstrip Hardwood
Engineered planks with the top finish layer made up of several thinner wood strips (piles) glued together. The core of the plank is a softer wood or wood-like material to make the tongue & groove
The top layer appears to look like it is two or three narrow planks wide and several planks long, in one pre-assembled section
Generally can not be refinished; Factory finish only
Insensitive to moisture changes
Designed for click floating floor installation but may be glued or stapled
"Green", Environmentally-friendly
Reclaimed Wood:

Collected from old buildings and demolition sites. Although costly to refurbish, authentic and unique markings make superb design choices.

Bamboo:

Plant based; regenerates every seven years. Resistant to fire, insects and moisture. 27% harder than Red Oak, and 13% harder than Maple—excellent wear

Cork:

Made from the bark of the Cork tree by removing only the outside layer; which preserves the tree. Cork is a good thermal insulator and acoustical choice. It is anti-static, hypoallergenic and has great elasticity. It is resistant to environmental changes and is highly durable.
Non-Hardwood
Laminate:

An image of wood (photographed or otherwise created) laminated onto a particle or wood substitute backing

Vinyl:

A plastic formed to look like wood

Veneer:

A a very thin layer or wood with a cover made of a composite aerial such as fiber board
Wood Flooring Designs
---
Inlays/Feature strips
Borders/Accent strips
Medallions/Focal points
Stained
Distressed/Hand "hewn"
Bleached/Pickled
Straight Pattern - As in random widths & lengths
Diagonal Pattern - As in Bordeaux style
Parquet Pattern - As in boxed, geometric, non- linear
Herringbone - As in Chevron style