---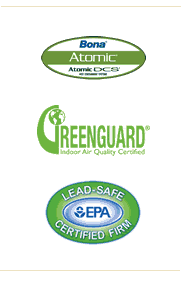 "Once again, you and your crew have done an outstanding job on my wood floors!"
~ M. Coursey
Coursey Financial Group
Species
Hardness and moisture content are important in determining how a wood floor will behave after installation. There are two general categories of wood: Classic/Native and Exotic.
The listings for each category are in order of hardness.
Classic
Southern Yellow Pine
White Pine
Douglas Fir
American Cherry
American Walnut
Hearth Pine
Birch
Red Oak
Beech
White Ash
White Oak
Hard Maple
Birdseye Maple
Bamboo
American Hickory

Exotic
Brazilian Mesquite
Anigere
Amendoim
Australian Cypress
Canadian Maple
Brazilian Cherry
Sapele
Padouk
Bubinga
Purple Heart
Mahogany
Acacia
Golden Teak
Brazilian Cherry
African Padauk
Bloodwood
Wenge
Brazilian Redwood
Cypress
Brazilian Chestnut
Brazilian Ebony
Brazilian Walnut
African Teak