---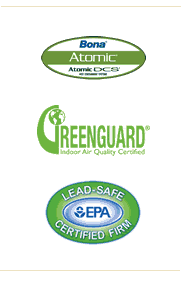 "We only wish that every contractor we dealt with while remodeling our house had been as good as you."
~ Mr. James and the Rev. Katherine Moorehead
Saint John's Church
Wood Flooring Grades
---
Clear
No Blemishes or knots in the wood with the most uniform color. Avg. length 3.75'.
Select
Small visible knots perhaps with some dark grains, some color variation. Avg. Length 3.25'.
Common
More visible knots with dark grains. Color variation with shorter plank length. Avg. length 2.75'.
Wood Flooring Cuts
---
The way the wood is cut determines different effects and varied use of the grain.
Plain-sawn
The most common cut giving a varied grain appearance.
Quarter-sawn
A more expensive cut with more uniform grain appearance and ray flecks. This cut affords greater wear and is more resilient to cupping, twisting and shrinking.
Rift-sawn
A more expensive cut than plain sawn, with a uniform grain appearance.
Circle-sawn
New wood that is custom-milled to look like antique lumber pulled from a barn. Planks are twice as long as strip flooring and each has a unique look with saw marks.
Skip-sawn
Only partial saw marks are visible and planks are brushed to enhance texture and de-burr the saw cuts.